Good morning♪
If you clean a little bit every day, someday the whole house will be beautiful~♪ "Cleaning 15 minutes a day".
Apart from the usual cleaning, not much at all. I set a time limit of 15 minutes to clear it.
See this article for the article I cleared earlier~
↓
It is recommended to clean for 15 minutes a day♪
Yesterday I went through the docs file for the space storage door piece on the side of the computer desk.

I also came to you today ~ I would appreciate it if you clicked on the banner below

↓


Japanese village blog
thank you for always
---
A storage slot on the side of my computer desk.
I bought this from Dinos when I was living in a cramped company house and it's really good because it has a lot of storage space♪
Good thing you can't see inside with doors and drawers (laughs)
It's nice to be able to quickly get to the documents you're interested in while sitting at your computer desk.
↓ I wonder if this is similar ♪ It has a storage capacity ☆

This is what happens when you open the door.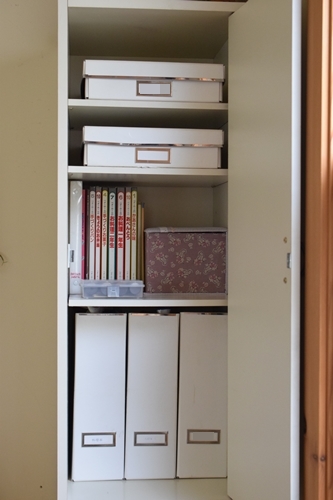 Oh yes, the wallet I bought from Seria. I'm so glad I bought it~!
When collecting money or giving a child a small lunch, now you can take small things right away.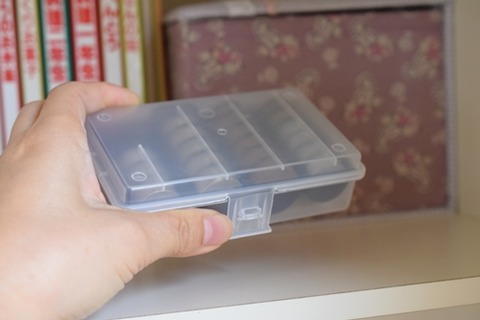 After reading the article, my friend and my parents' father also said they bought it (laughs).
Click here for the article at the time → 100 yen, but it's great! The series is a separate case for coins☆
This time I'm going to organize the inside of the IKEA KASSETT magazine file.
I have three log files, one for my son, one for my daughter, and one for me (some of my husband's files lol).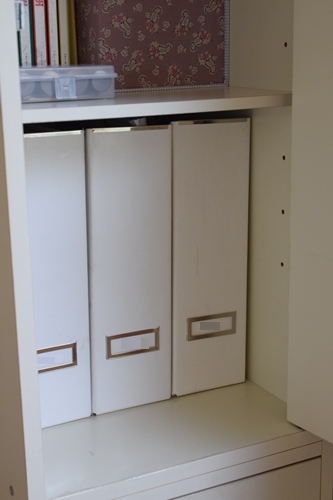 Make a room with IKEA♪


This time I organized the contents of my husband's journal.
In this transparent file, I put various documents such as "garbage sorting schedule and method", "condition check results", "community association messages", but what I need to save. consider it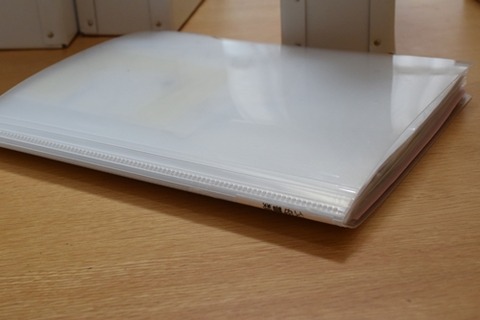 I've always liked indexes.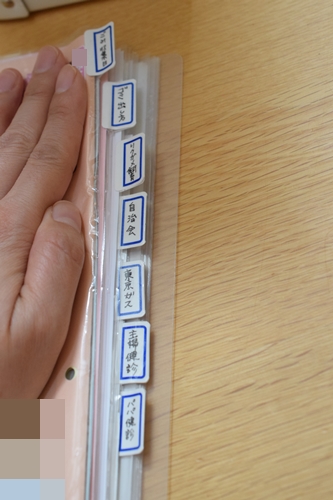 Before I knew it, the content had grown and I couldn't fit in, so I skimmed it💦
My surgery related documents take up a lot of space here and make it dense.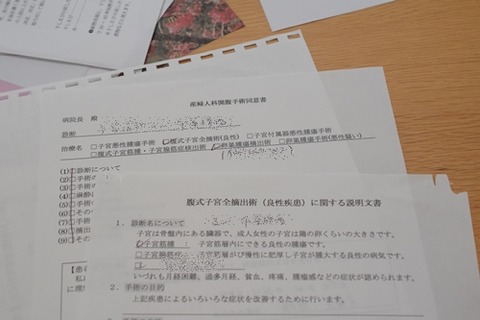 See my surgery story here.
"Consent form for surgery", MRI photos, instructions for hospitalization.
More than 3 years have passed since the operation, so I decided to throw it away. I won't see you again~
The number of "printouts of cooking recipes" has also increased recently.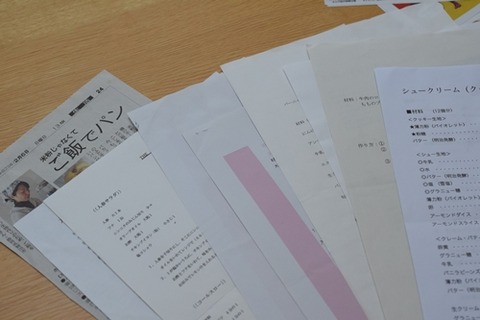 I used to paste newspaper clippings, cooking recipes, and printouts of recipes that other people gave me onto blank pages. I had a file that my son wasn't using so I got it.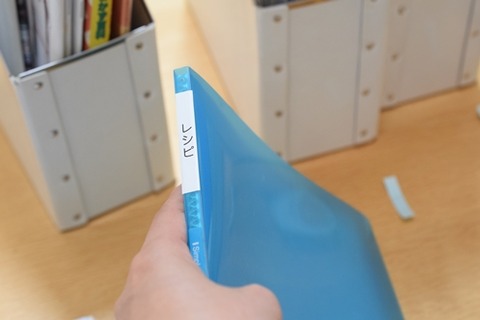 I think the clear files from stationery manufacturers are more durable and last longer than the 100 yen clear files, so I buy KING JIM and KOKUYO.

It's a thin file, but easier to find on your own and easier to open quickly in the kitchen.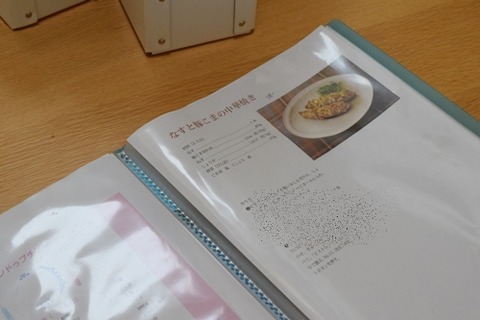 I was thinking of taking a picture and looking at the recipe on my smartphone, but I'm presbyopic (laughs), so I put it in my clean pocket.
I also decided to throw away the bills (?) of roses and clematis.
It has instructions on how to raise it…
When you buy seedlings, they come in a set, so I put them in this file just in case💦
In the end I decided to throw it all away as I would never see it again.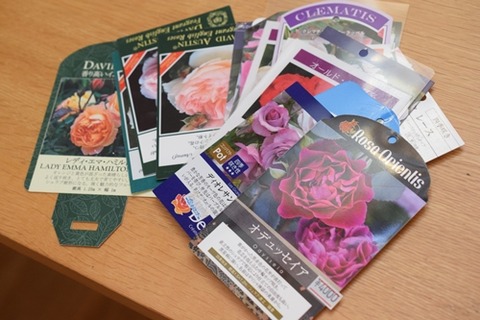 The blood test results that are sent to me every time I donate blood keep piling up, so I decided to throw out the old ones.
I donate blood about once a month (laughs) Let's do it again soon~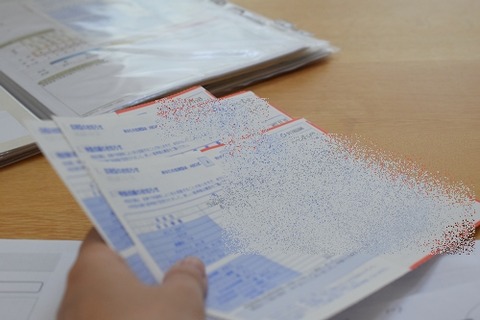 This time there are so many papers to drop ♪ I feel refreshed.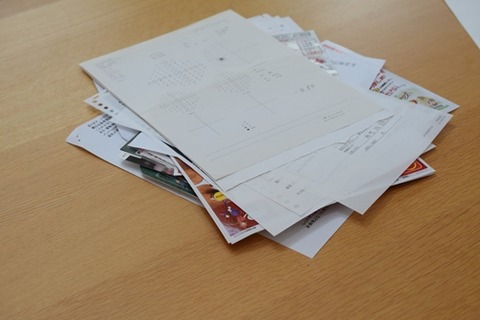 But I have problems with business cards.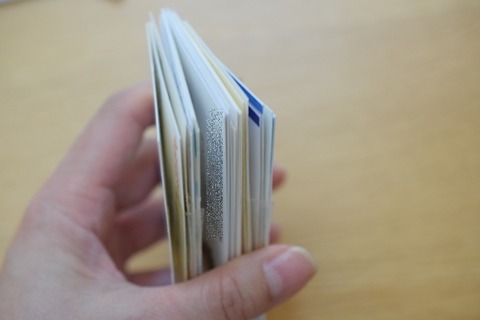 I rarely get business cards, but I've gotten business cards from publishers and photographers for magazine coverage, and since I moved to Livedoor, I've had more opportunities to meet bloggers. Or… there are more and more of them.
I used to put A4 paper in this file and paste it in there, but it doesn't fit anymore~.
I wonder if there is a program that takes photos of business cards on a smartphone and manages them. These storage methods should be considered.
So tidy up the contents of the clean file and feel refreshed ♪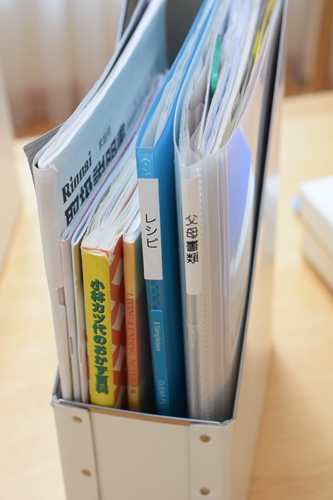 Oh, and the other things in this log file are cookbooks and kitchen appliance manuals.
It comes with a recipe, so it's handy to have around here.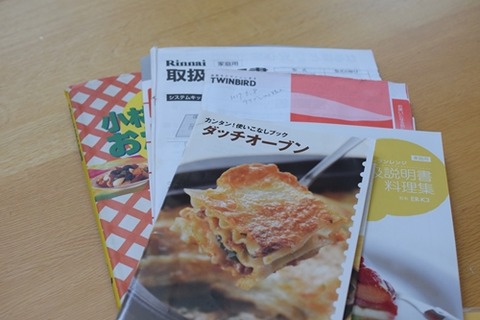 It might be a good idea to flip through that log file if you run into trouble cooking.
Hmmm, this took longer than I expected, so I'll stop there for now.
Don't overdo it, it's better to introduce little by little ♪
A Japanese blog on a village theme A clean place/thing
A Japanese blog on a village theme Get clean and get rid of petty stress
A Japanese blog on a village theme Children's Cleaning (Mujirushi, IKEA…etc!)
A Japanese blog on a village theme Tidying effect
A Japanese blog on a village theme Housekeeping x Children
See you soon♪
I participate in the ranking of blogs.
If you click on the photo below, the rating will increase and this will encourage you to upgrade.
You can click once a day, so thank you very much (〃^∇^)↓


Thanks as always♪
↓If you sign up here, you will receive LINE notifications of updates to this blog♪

I would appreciate it if you could sign up.