good morning!
No one understood the previous question, "What will you use it for?" ( ̄ー ̄)Fufufufu

The correct answer is "cabinet drawer stopper"was!Naturally, you can't understand with just a stick ~ (^ ^)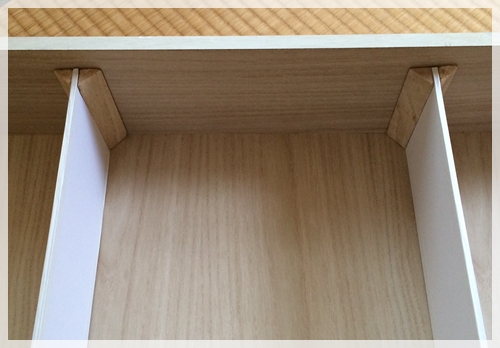 The dresser I've used since I was single is old fashioned and 90cm wide.
My clothes are folded and stored in the bottom drawer, but the width is wide and I had problems with clothes moving when I pulled the drawer in and out.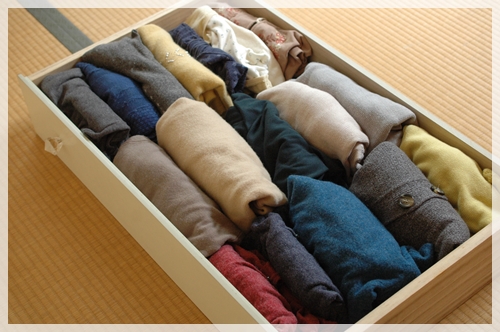 In the past, when I made partitions in my sister's house, I put cardboard on the endpapers and used them as dividers.
See the article from that time here.
Cleaning My Sister's House Make Drawer Dividers for 100 Yen
However, there is a chance that it will tilt when you insert and pull out the drawer.
I want to block it so that it doesn't move!
So again (laughs)
I was wondering if there is a better way. ← What can you do because you are free.
I have come up with a better way

That being said, even when you put the drawer in and out, the partition doesn't move, which is beautiful! !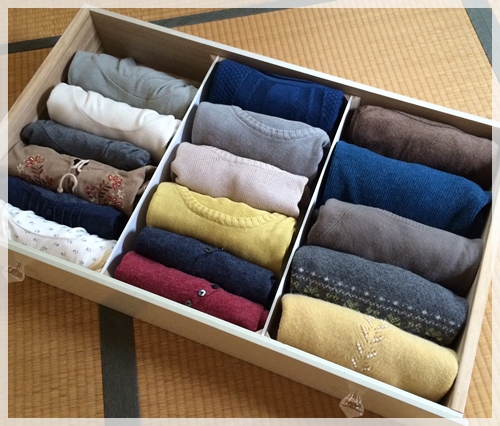 Try to do it by all means ♪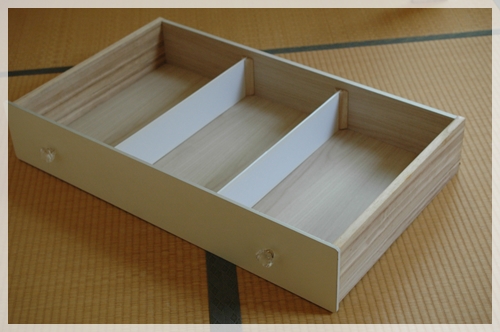 Do it yourself, with your own hands, with your own hands
---
It is easy to make.
The material is a triangular wooden stick that I bought from Daiso. Its length is 91 cm. I bought two for 100 yen each.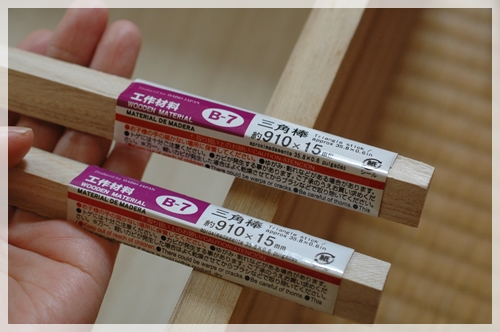 The section is an isosceles right triangle.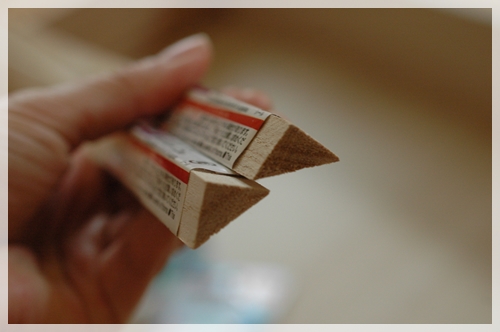 Shop for 100 yen
I cut this down with a hacksaw to 10cm long. Thin enough to cut easily.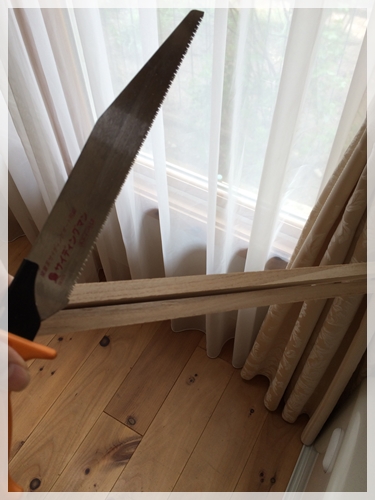 It's 91cm so you can cut it into 9 pieces (the last one is 11cm but I don't mind ~ (laughs))
Do not cut so strictly!
↓A small saw is handy.

It's a soft wood so it can crack weirdly so I think it's good to cut slowly.
Then lightly sand the cut edges with sandpaper.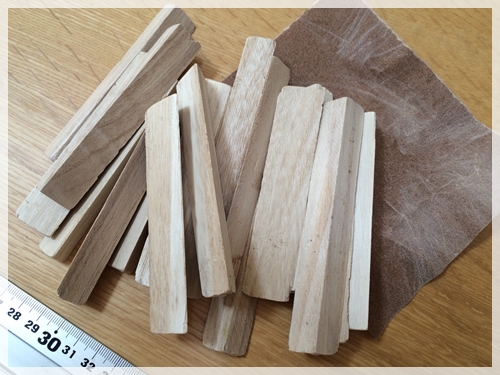 Then stick the double-sided tape you bought from Daiso on one side.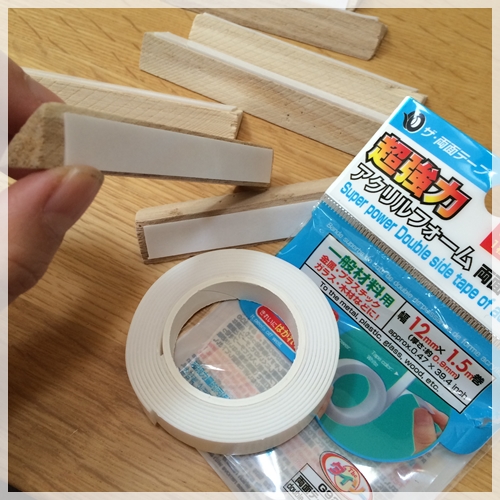 Don't forget to put it on the side of the right angle~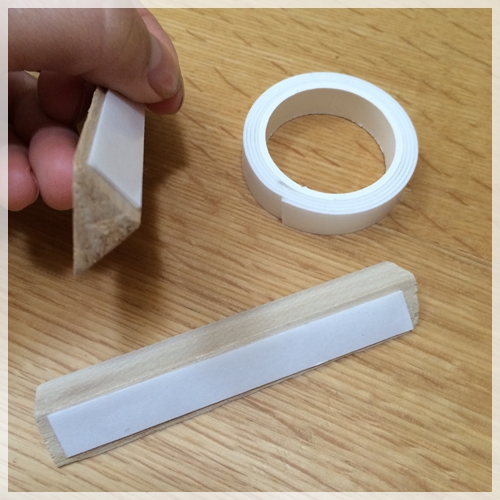 On the other hand, regarding the divider, when I measured the inside of the dresser drawer, it came out to be this size.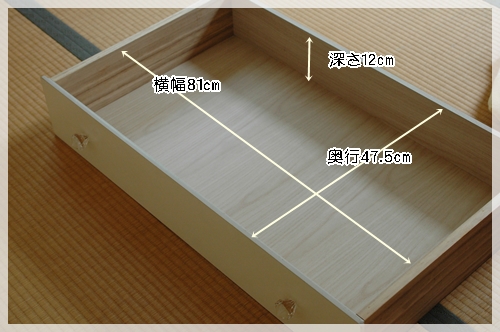 I cut the cardboard that I always use for cardboard with a cutter.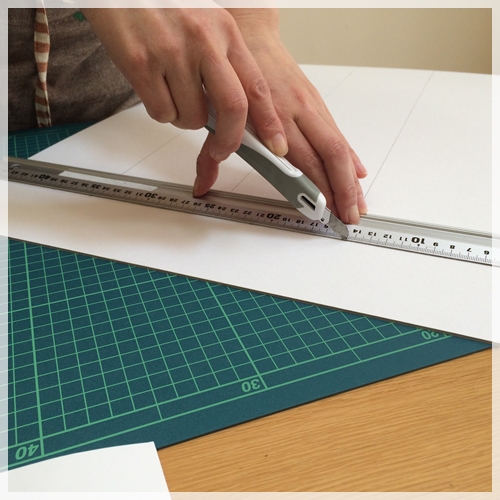 ↓If you use white thick paper, it will be beautiful as it is♪

↓ The cutting tools I use. If you have this, you can safely cut ♪

Cut into 4 pieces measuring 10cm x 47.5cm.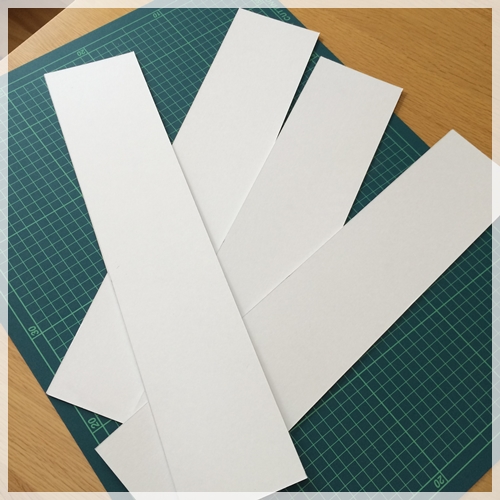 One sheet is fine, but I layered two to make it more durable. I just water taped the top and bottom.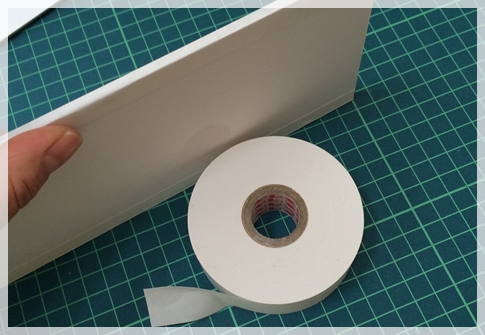 ↓When using white cardboard, use white tape. It is applied as a stamp by soaking in water.

Try putting it in a dresser drawer to make sure it fits properly.
But if it remains so, it will be shaky.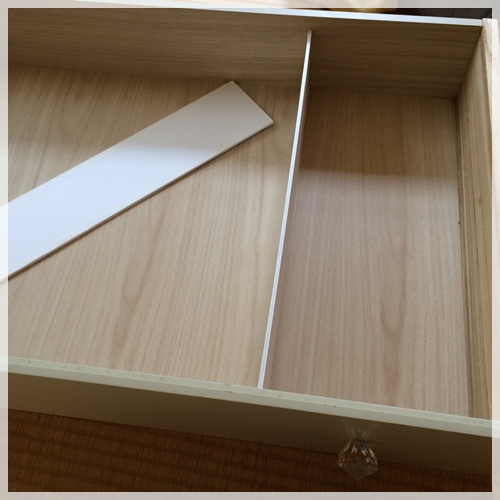 So I clamped the cardboard on both sides with two wooden sticks made earlier,Stick to the dresser with double-sided tapeTo do.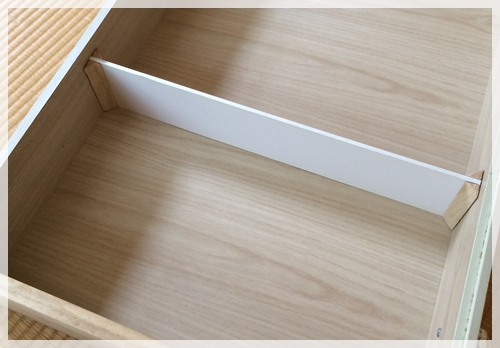 Divide it by 3 (in the case of a dresser, the width is 81 cm ÷ 3 = 27 cm) and add dividers at equal intervals.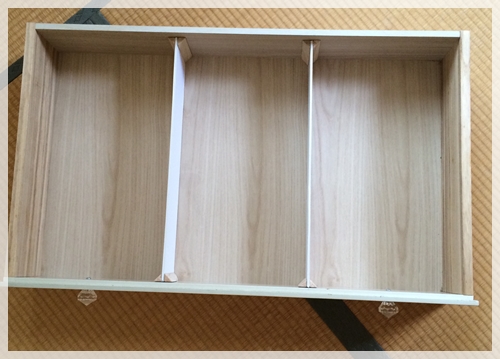 When you remove the cardboard, it looks like this. I think it's a good idea to remove the cardboard when cleaning the drawers.

This triangle is a point. This is more stable than supporting it with a square stick.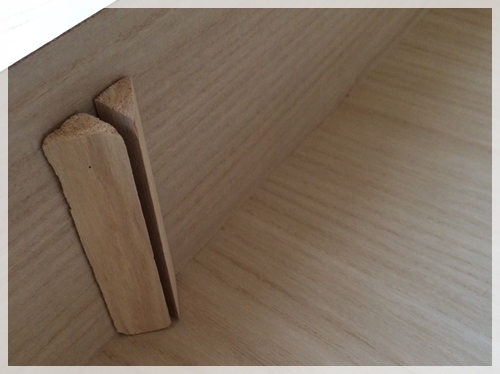 Since it is firmly attached with double-sided tape, the partition will not move, even if the drawer is taken out and taken out!
A drawer with summer clothes.
Before↓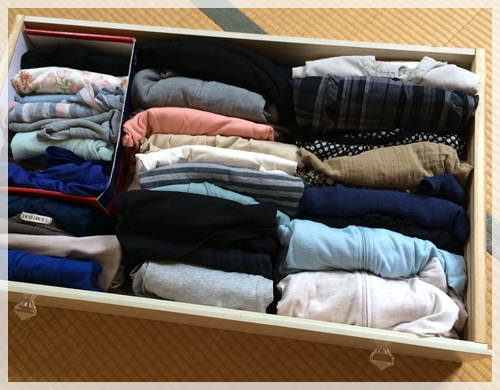 Then put a partition
After↓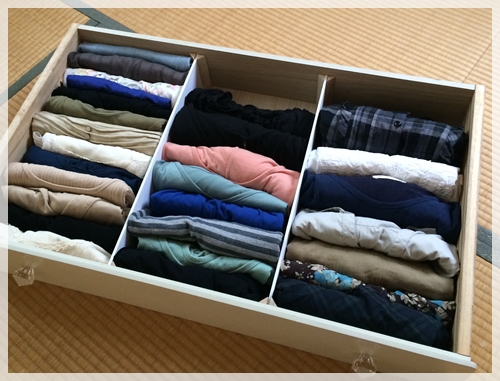 This one is absolutely beautiful!
I think this partitioning method can be used not only for dressers, but also for drawers throughout the house.
You can make the perfect size depending on the depth, depth, width, etc. boxes, so try to make one yourself.
As for material costs,
I added two dividers for each top drawer, so
・ Use 8 10cm long chopsticks → In other words, 1 triangular Daiso chopstick (¥100)
・ 1 carton (about 100 yen)
is used. In other words, I was able to do it for about ¥200 per box.
instead of cardboardplastic cardboard(Plastic cardboard) can be used as a partition,
of coursethin plywoodBut that's okay. I think it's good to have some thickness (a few millimeters) and strength.
If you want to save morecardboardcan also be used, but it doesn't look good, so in that case, I think it would be better to cover it with a cloth or wrap it in wrapping paper, so you can't tell it's cardboard.
Daiso, could you commercialize this 10cm stick~?
It's easier if I cut from the beginning, so if there's a sale, I'll definitely buy it (laughs)
I wonder if I should have applied for a utility model instead of blogging about it (laughs).
If you do, let me know what you think in the comments.
I will try to make partitions in other places too!
See you soon♪
My blog rank is sluggish…(^^;)
If you think this is a good idea, click on the photo below before you leave (^-^)♪
↓


Japanese village blog
Thank you for always supporting us♪♪