Good morning♪

In our city, "combustible garbage" is supposed to be taken out "at a site adjacent to the road" (if it is a question of individual houses), and not at a garbage collection point.
Sometimes crows flew in, so I protected myself with a net…
Crows are really smart~
If you don't know how to put on a net, they will deftly turn the net over with their beak💦
The other day, for the first time in a long time, a crow caught my garbage…(´;ω;`)
I am ashamed to look at the scattered garbage and I feel very sorry for the people who collect the garbage…💦
So I decided to buy a stronger crow net, so I looked it up on Rakuten.
I wonder if it's a good thing if it is ~ but the internet has a life expectancy.
Well, if it is made of metal, it will last a long time.
I was wondering if I could do it without spending so much money… ( ̄ー ̄)
I went to Daiso and bought a wire mesh and made it ~ (laughs)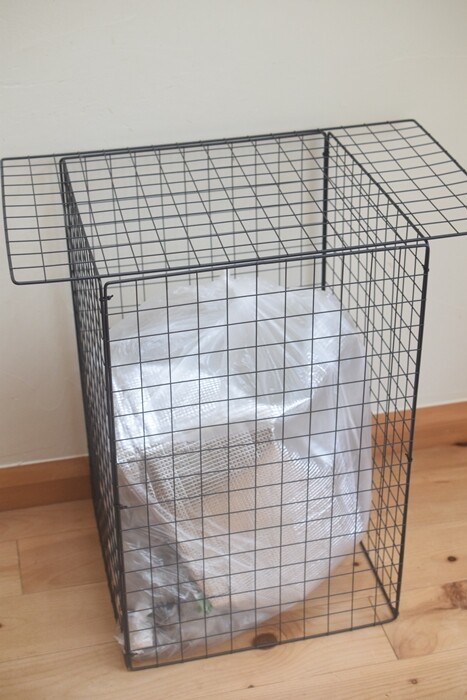 It's not like I made it (lol), I can make it in 5 minutes. It was easy!
I also came to you today ~ I would appreciate it if you clicked on the banner below

↓


Japanese village blog
thank you for always
---
I bought 5 wire nets (black) from Daiso.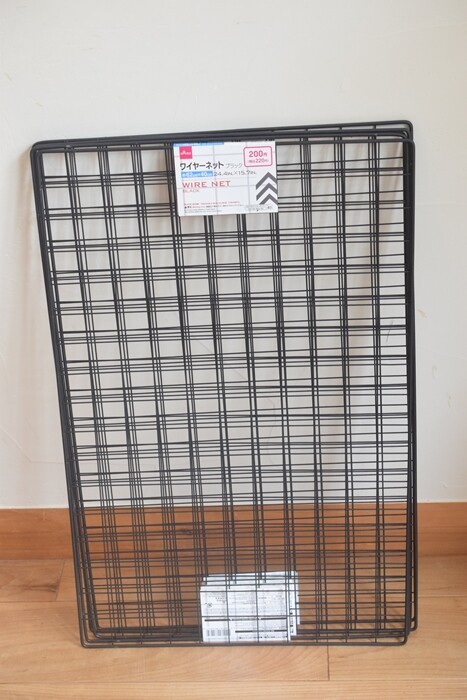 Because it is large, approximately 62cm x 40cm,
200 yen per letter (+ tax)
there is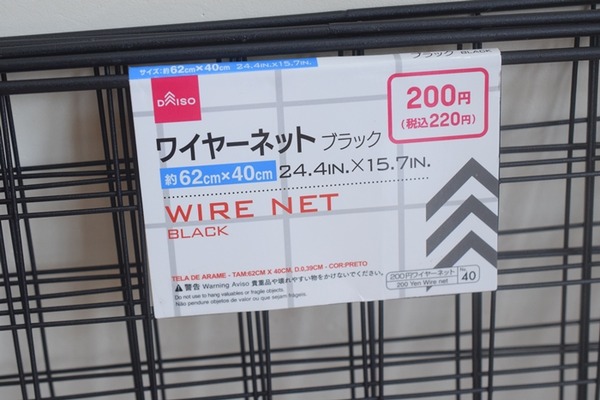 Before that, I saw wire mesh that was wide (40.5cm x 51.5cm) at Seria for ¥100 per sheet, so I could make it there for half the price. The height would be 10 cm lower, but is that enough? I think.
I used black zip ties to tie the wire lattices together.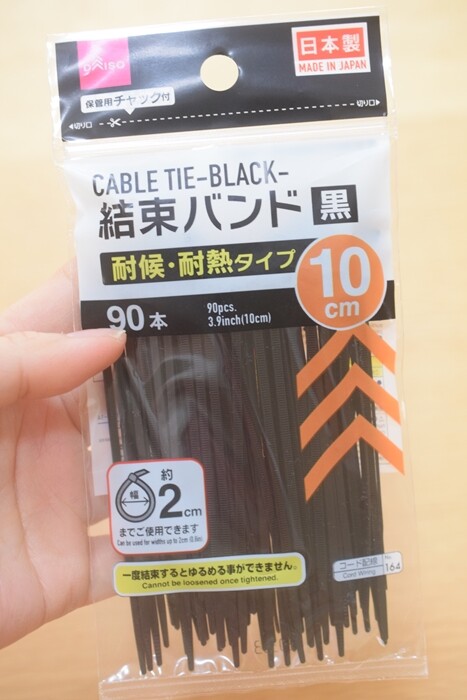 Skip it like this and tighten it tight.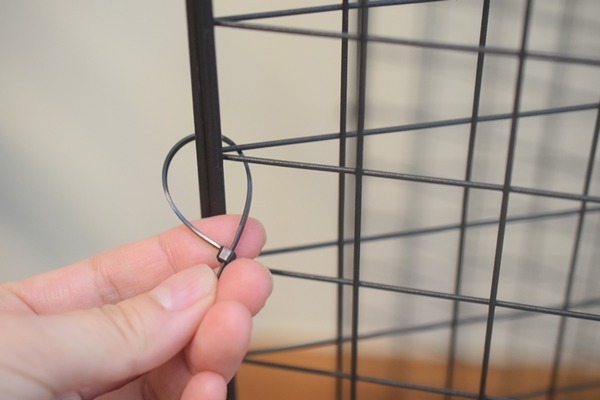 First, I gathered four nets into such a square (fastened them with zippers in three places at the top, in the middle, and at the bottom), and put garbage inside. (This is a 20 liter garbage bag.)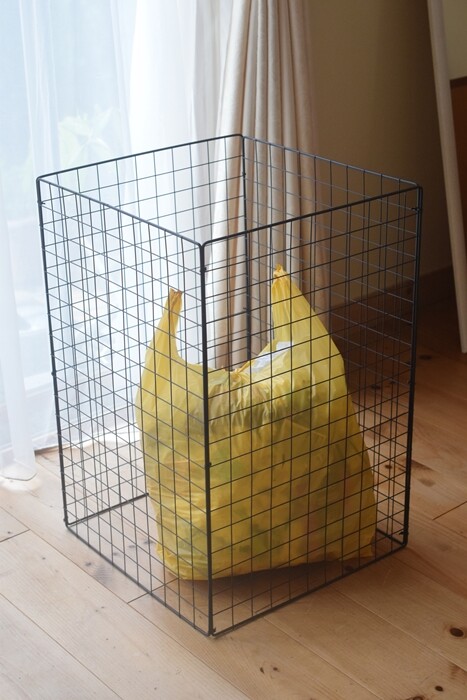 I put one up as a cover and added a handle (I used a Seria iron wall rack that I had at home for a long time. I didn't use it so I attached it to the handle).
I thought about cutting the wire a bit so that the lid can be opened and closed.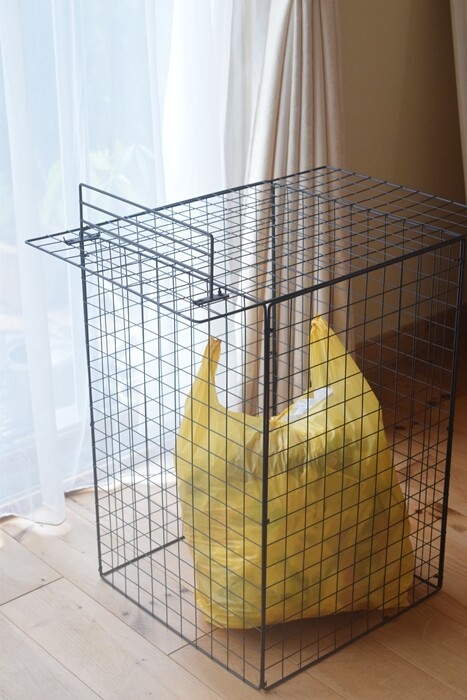 For now, I put one sheet on top and take it out on garbage day.
I was wondering if the garbage collector knew how to open it… so I was worried.
Then I thought I would take out the trash, holding the handle with one hand and removing the lid.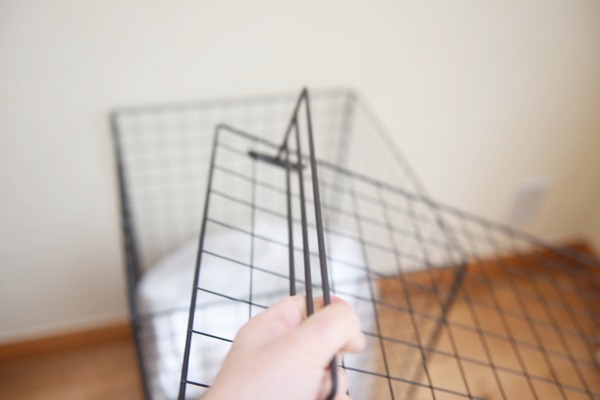 I lifted the mesh part straight up with my left hand and took out the trash with my right.
I see, I thought you didn't need a pen.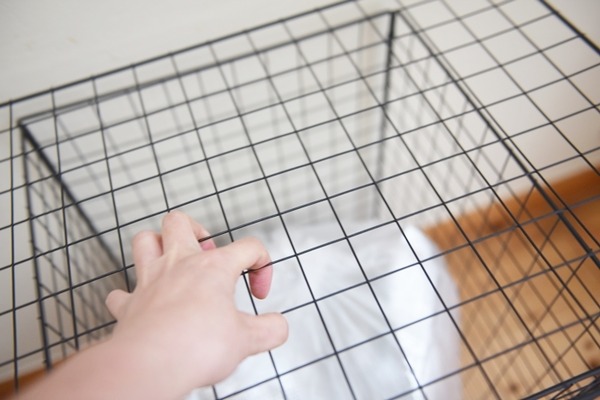 In the end, when I thought about keeping it, the handle got in the way, so I took it off.
And I decided to choose a method with a high degree of freedom, given that it can be folded and stored away when not in use.
I will knit 4 meshes, but leave one open without making a circle.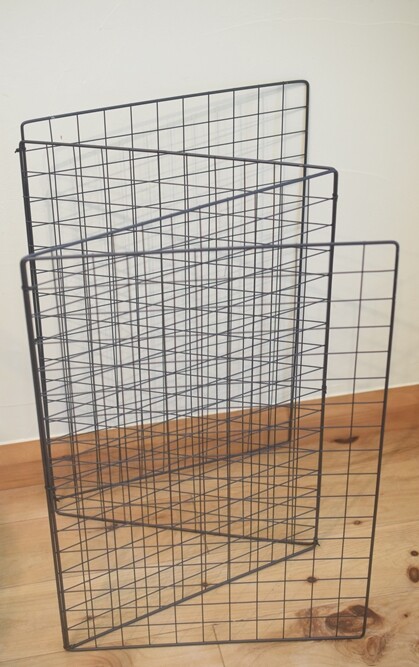 Since it is simply tied with a cable tie, you can shape the wire mesh to make it square.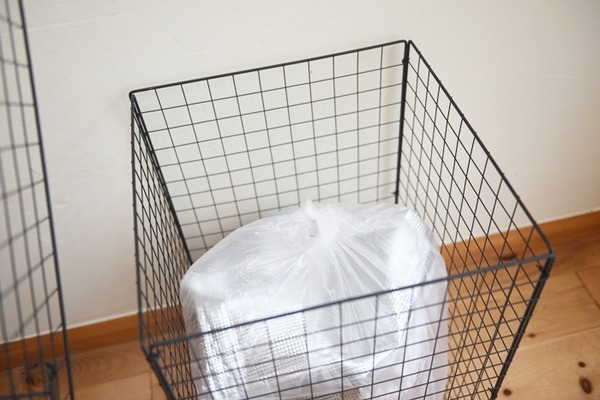 If you have more junk, you can do it like this.
I always hang it on the wall so this shape is fine! )
But with this one, I can't cover it, so I have to think about the lid~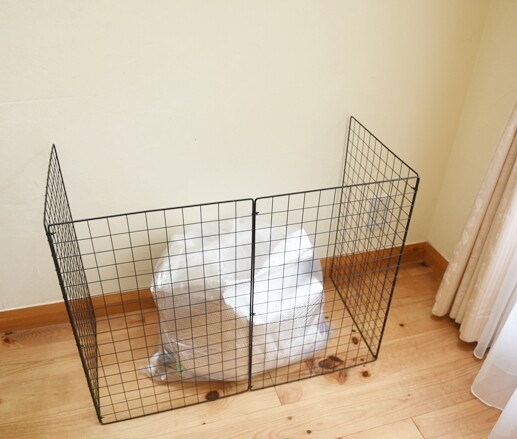 Think about it for a moment… If you have 40 liters or more of garbage, you can use a pentagonal shape like this.


If you put it in a pentagon shape and cover it like that, I don't think the crows will be able to pick up the garbage bag.
The wire mesh has some weight to it, so I don't think it will be blown away by the wind.
Ah, but if you put the handle in the middle of the lid, it will be a weight and it will be safe.
It's pretty heavy so I don't think it will fly in the wind unless it's a strong wind.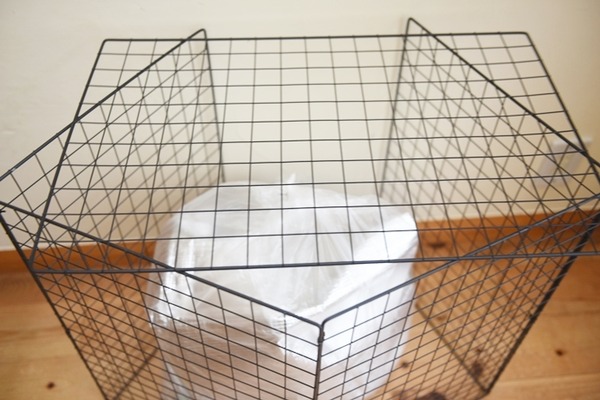 After collecting the garbage, the net can be easily folded.
If you put it under the eaves, if you don't take out the garbage, it won't take up much space.
(It doesn't seem to be rainproof, so it shouldn't be exposed to rain.)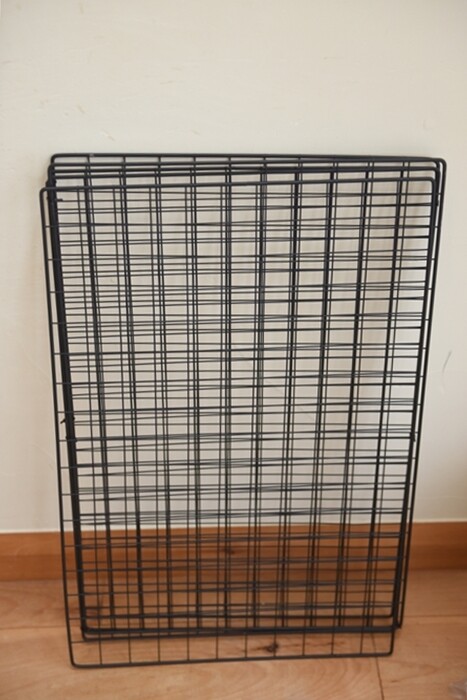 I've been trying to make it like this for a while, but I can still improve ( ̄ー ̄)
It's just stopped with a cable tie, so you can change the shape as much as you want (laughs).
In fact, it would be nice to have a net made of stainless material so that I can feel safe even on rainy days.
I tried looking for stainless steel wire mesh, but the cost… 💦


So today we talked about making a net to keep crows out of Daiso (*´∇`*)
It's a lot of fun thinking about these things.
What kind of crows are you all doing?
Please let me know if you have any ideas♪
A Japanese blog on a rural theme Have a great life♪
A Japanese blog on a rural theme Have fun and live happily ever after!

A Japanese blog on a village theme I want to live more comfortably!
A Japanese blog on a rural theme Things and tricks that make housework fun
See you soon♪
I participate in the ranking of blogs.
If you click on the photo below, the rating will increase and this will encourage you to upgrade.
You can click once a day, so thank you very much (〃^∇^)↓


Thanks as always♪
---
★ I'm on Pinterest (*´∇`*)
I collect my favorite photos and photos that may be useful. Look.
If you press this button ↓, you can PIN the photo of the blog ♪

↓If you sign up here, you will receive LINE notifications of updates to this blog♪

Thanks for subscribing.
I present my recommended products on Rakuten ROOM☆
↓↓↓
I write another blog.
Check it out if you want!
↓↓↓