Good morning♪
Are you worried about condensation on the windows in winter?
Our home has argon-filled double-glazed windows and wooden shutters (manufactured by Marvin).Absolutely no condensationAlthough it has been said that…thickenThere is room (;´D`)
Condensation is formed mainly in the bedroom.
There is no condensation on the 1st floor (LDK etc) but I think a lot of moisture is released during night sleep.
When my children were young, my family of four slept in a Japanese-style room on the second floor, forming the shape of a river, but in the morning the windows were flooded (´;ω;`)
So, I previously wrote a story about how I bought a "condensation wiper" and removed the condensation every morning…
I'm not a normal person so I can't do this everyday 💦… If I leave it alone, the window frame will mold… (tears)
Therefore, when the Japanese-style room on the first floor was renovated in the summer, the window frames were also painted white.

Read more about window tinting here.
I don't want mold coming back this winter because I went to great lengths to get you to paint it!
Think how to prevent condensation! And my husband and I were thinking about this and that… ( ̄ー ̄)
Here's what I did while shopping at the home center!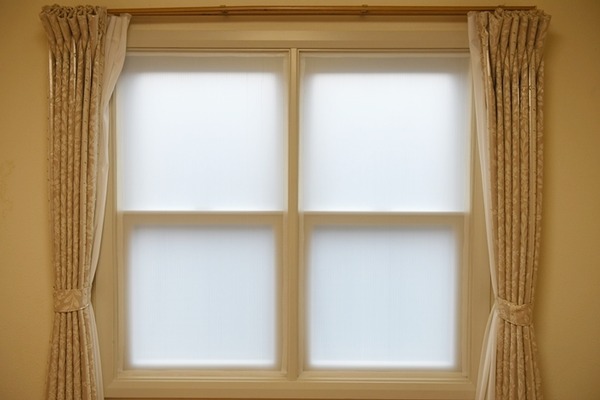 "close the window with plasticThis is a strategy
Pradan is an abbreviation for "plastic cardboard". Cardboard made of plastic
It's 4mm thick, so it's somewhat of a solid board.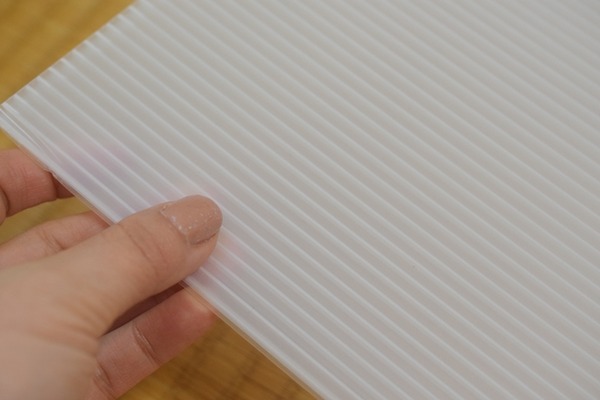 Advantages of plastic windows Dan
・Material costs are low (one Tami-sized plastic carton costs a few hundred yen)
・Vivid through light (about the same as frosted glass when natural color is used)
・Easy to cut (easy to cut with cutter)
・Lightweight (even if it falls, it is not dangerous and easy to operate)
・You can do it in no time!
・Reusable! (You can remove it in spring and use it next year ♬)
There is a minusI can't open the window💦
Oh, but it's just lightly taped, so if you want to let the wind through during the day, just peel off the plastic cardboard and you're good to go!
Thanks to this, I got rid of the condensation problem this year ✨ Awesome~!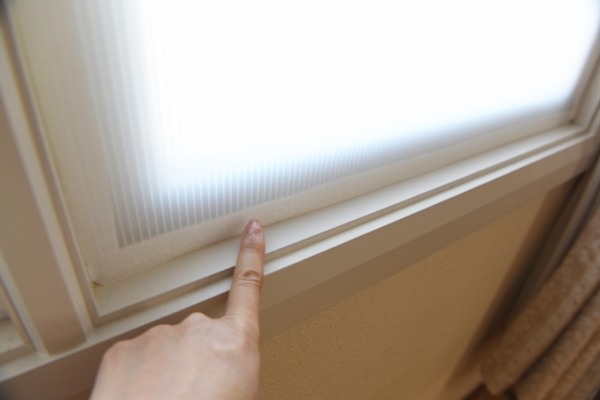 Today I'm going to show you how I did it!
I also came to you today ~ I would appreciate it if you clicked on the banner below

↓


Japanese village blog
thank you for always
---
First, take a good look at the windows…
Think about where you can stick the pladan (board).
In my case, I found that if I glue it to the yellow dotted line, I can glue one board without any interference.
Feeling attached to the window frame instead of sticking to the window glass
so that there is an air gap between it and the surface of the glass.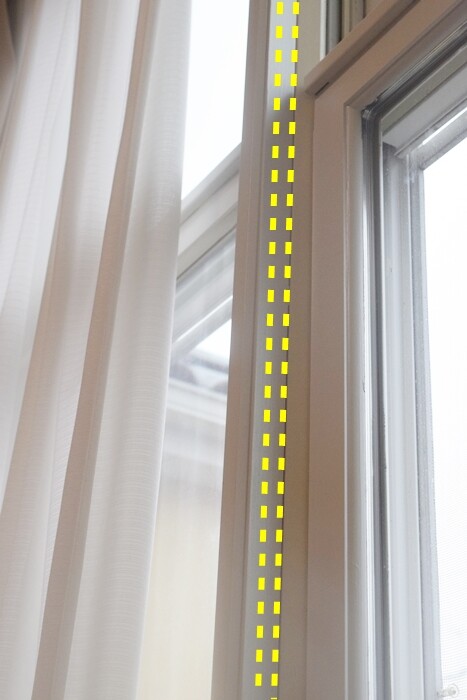 After carefully measuring the size of the window frame, head to the home center!
In the case of the windows in my house, the Japanese-style room on the second floor and the toilet on the second floor tend to get condensation, so I did it there.
・North side Japanese style room: 2 sheets 61cm wide x 116.2cm long
・East facing Japanese style room 69cm wide x 115cm long
・2nd floor toilet 72cm wide x 48.3cm long
The standard size of plastic dumplings is 91 cm x 91 cm, then 91 cm x 182 cm (tatami size).
That's why our house
Thickness 4 mm x 91 cm x 182 cmnatural colorbuy 3 plastic dumplingsdid
(There is also a "white" plastic version, but be careful because the white is pure white and doesn't let the light through! It's better to buy the "natural" version~)
↓ If you buy in bulk online, you can buy it for about the same price per piece.
I used to sell hardener plastic card at the home center but it was too thin (2mm?) so I stopped using it even though it was cheap.
As for insulation, I believe that the thicker the better,thickness 4 mmI thought it was good.
I managed to put it on the car and came back (laughs), cut it to the size of the window frame.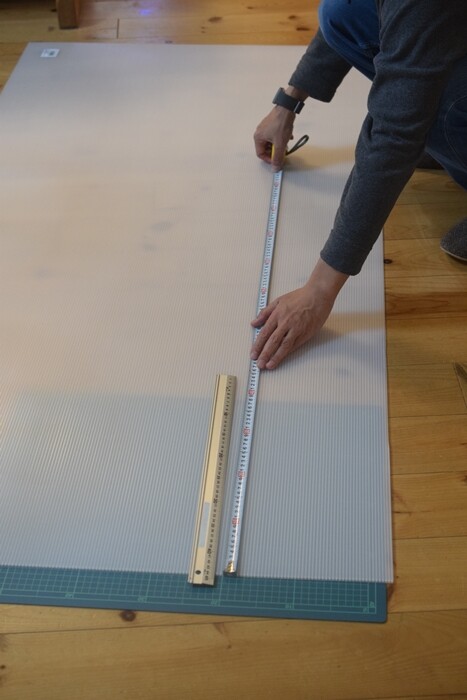 Easy to cut with a milling cutter. It might be a good idea to trim a bit more first so it doesn't end up too short.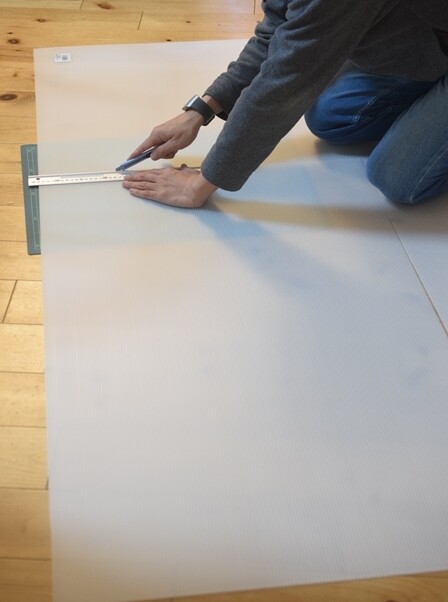 It is recommended to fit it to the window and trim about 5mm if it is too long.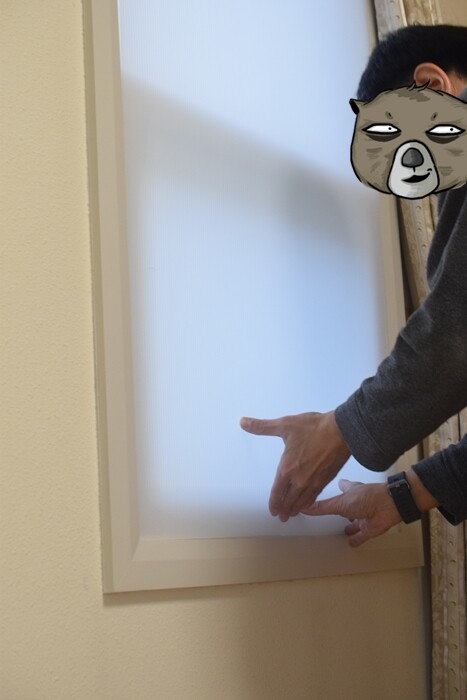 Even if it fits snugly against the window, it seems like it will fall off if left like that.
That's what I put at the end. Bought in a home center together.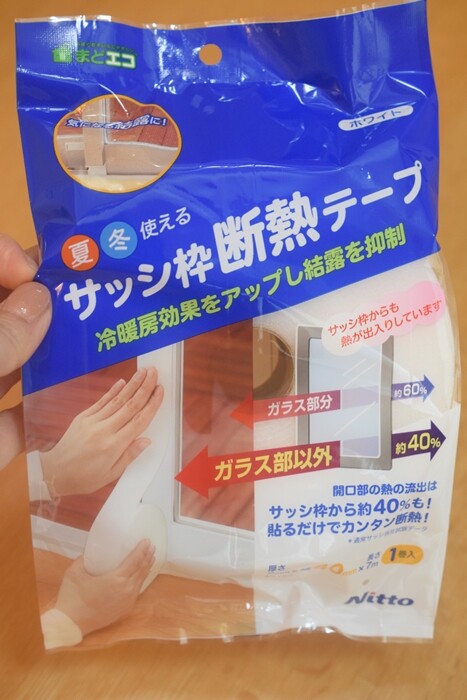 It is a soft thick tape.


The 4cm width was a waste, so I cut it in half lengthwise with scissors (laughs).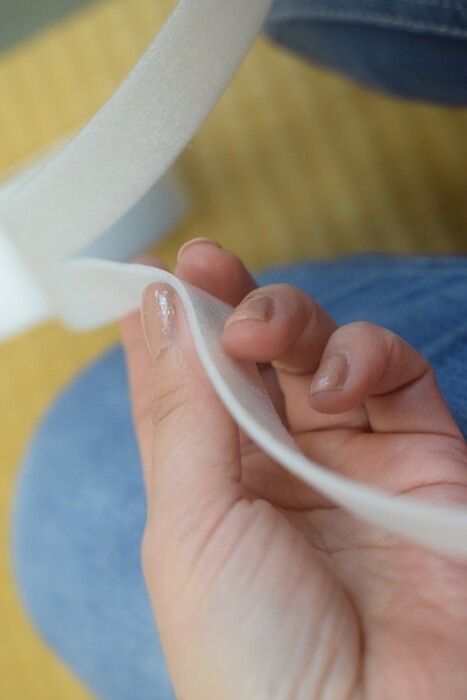 Oh, should I have bought half the width from the start? But if the price is about the same, should it be twice as thick?


Stick it between the window frame and the plastic board. This completely reduces the inflow and outflow of air!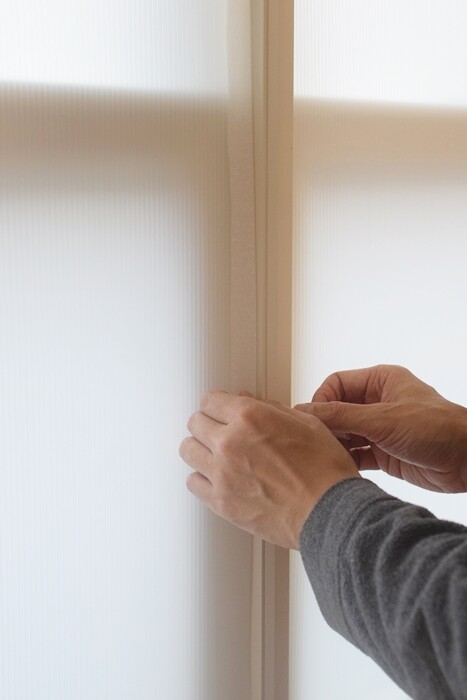 I also cut it ~ Because it can be cut lightly, the fruit is the best!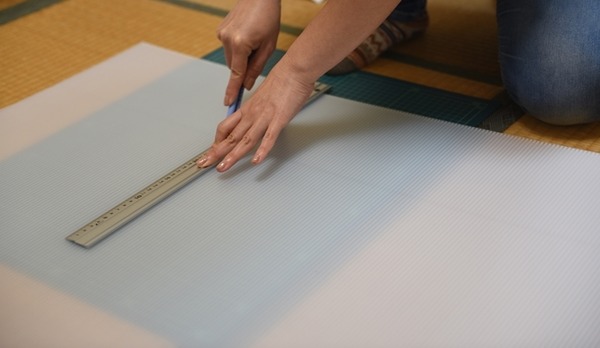 As for how dark it gets…about as dark as when I wore lace curtains.
From now on, the lace curtain (bandage) will not be needed, so the brightness will practically not change.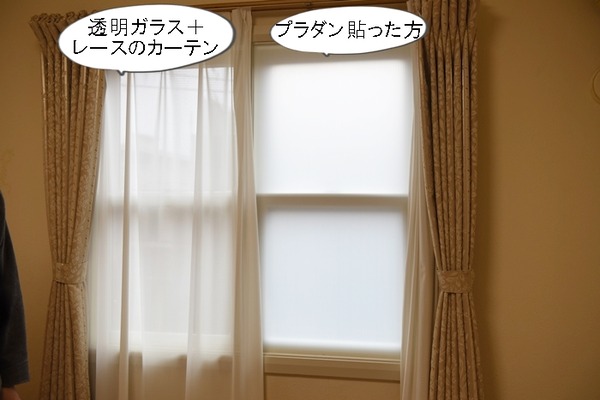 In the same way, he stuck a plant on the window of the toilet on the second floor.


It's been a while, so we're looking forward to tomorrow[часткі 2]about the effect of sticking plastic cardboard and the cost ~( ̄ー ̄)♬
Please come to us again~

Winter interior and living room
See you soon♪
I participate in the ranking of blogs.
If you click on the photo below, the rating will increase and this will encourage you to upgrade.
You can click once a day, so thank you very much (〃^∇^)↓


Japanese village blog
Thank you so much for everything♪♪
Postscript on December 21st (I got a question from Haru-chan's mom.)
He said, "Could you please tell me the details of how to apply the electrical tape (where to apply it)?"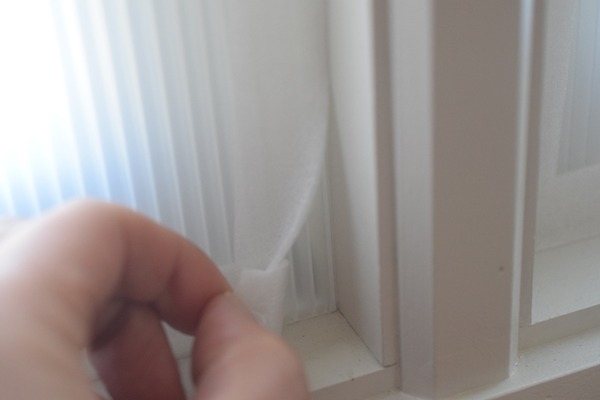 As I wrote in the comments, it's like cutting plastic cardboard to size to fit the window frame and taping it with electrical tape to fill the small gap that is created when you put it in.
If the tape is 2 cm wide, then most of it sticks to the plastic cardboard, and a little (several mm) to the window frame. To prevent the plastic cardboard from falling, I put it to close the gap in order to block the air. The masking tape isn't very sticky, so I'm afraid that if it's just a light tape, it won't leave a mark when I remove it in the spring (・∀・)