Good morning♪
Some time ago I bought a Panasonic "Wide Futon Vacuum Head".

↓This is a futon cleaning head attached to a vacuum cleaner.
It was written that it does not stick to futons and blankets and can be easily cleaned (・∀・)
The reviews are also pretty good. Comes with a "sugate tube" that can be connected to each manufacturer's vacuum cleaner.
In fact, when my husband, I, and my daughter moved back to my husband's parents' house in Yamanashi last fall, we stayed one night, but my daughter said the futon was dusty and she couldn't stop coughing and running. .(´ ・ω・`)
My daughter is allergic (or rather, the whole family) and the little one was bedridden due to asthma. My cough bothers me a lot.
I didn't feel anything when I slept (numbness), but my husband said he had mild allergies every time he stayed (my nose was stuffy!).
Whenever my mother-in-law leaves the futon in Yamanashi to dry on the porch, it's old, so it might have dead ticks in it.
In the old days, people beat the futon with a futon beater, but recently it is said that beating the futon is not good because it breaks the dead ticks into small pieces.
So I decided to buy something that could clean the futon, so I bought this.
It's cheap so it's useless (´・ω・`)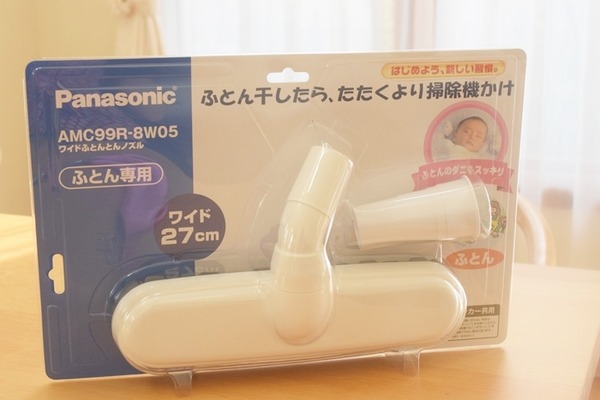 Laycop and other futon vacuums are known but they are expensive so I decided to give it a try for now.
You can use the vacuum cleaner at home because you just need to replace the main nozzle of the vacuum cleaner.
I also came to you today ~ I would appreciate it if you clicked on the banner below

Japanese village blog
thank you for always
The head looks like this. A rotating roller beats as it rotates, removing dust.
It's 27cm wide, so I'm happy to be able to vacuum a large area at once.
A "train pipe" was attached.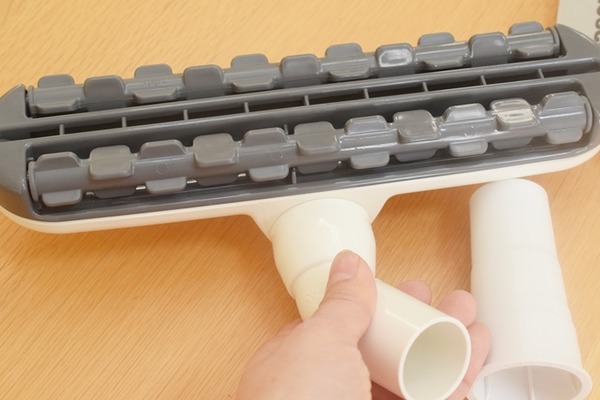 I decided to try it on my futon first. Our vacuum cleaner is made by Toshiba, but…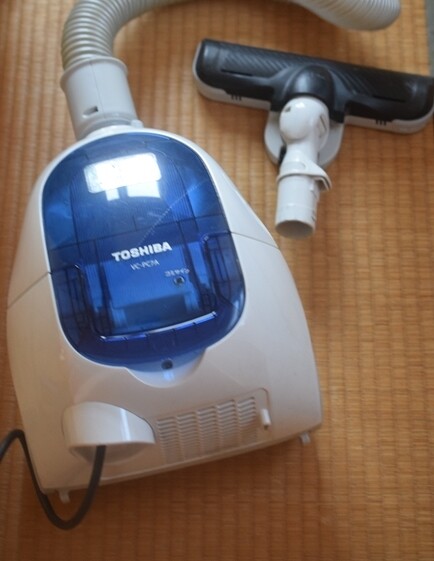 When I tried to connect it to the vacuum cleaner in my house, it was connected.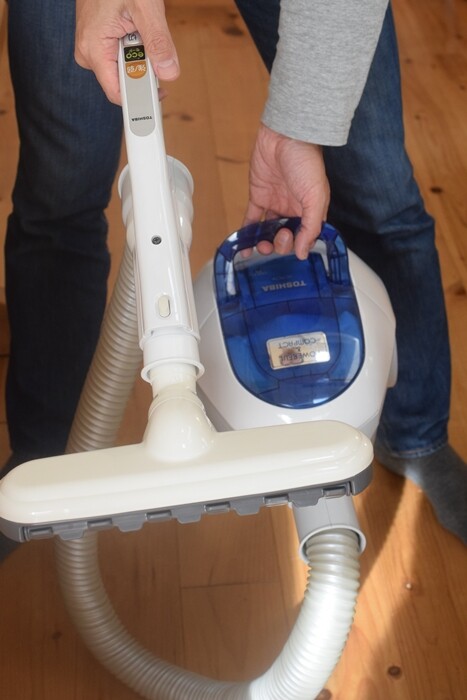 I turned on the vacuum, attached it to the futon and pulled and it came right off💦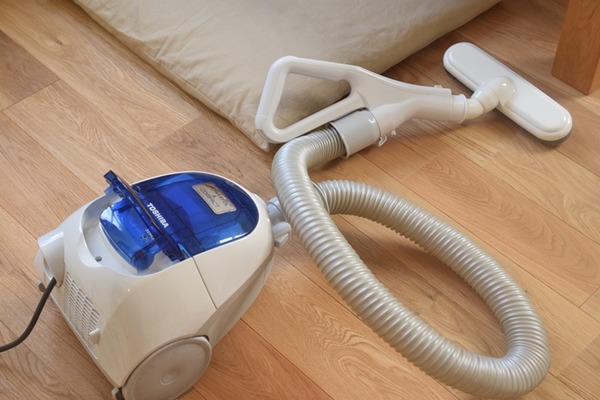 When I read the reviews on Amazon, it seems that there are many people who have the same problem and solved it with the tape (;´D`)↓By the way, the Makita battery cleaner did not fit at all💦 sorry.
I thought it would be a mistake to put tape on it (it's hard to replace every time I clean) but…
When my husband went to Yamanashi, I took this with me and it connected perfectly with your vacuum cleaner.
Yamanashi's vacuum is also made by Toshiba, but it's a cheaper type than ours (I bought a Makita used on the second floor of my house and brought it back when I stopped using it) and it's an old vacuum. There was a pipe that could twist to change length, which is often found in (?).
When I pulled it out in the middle it seemed to fit just right.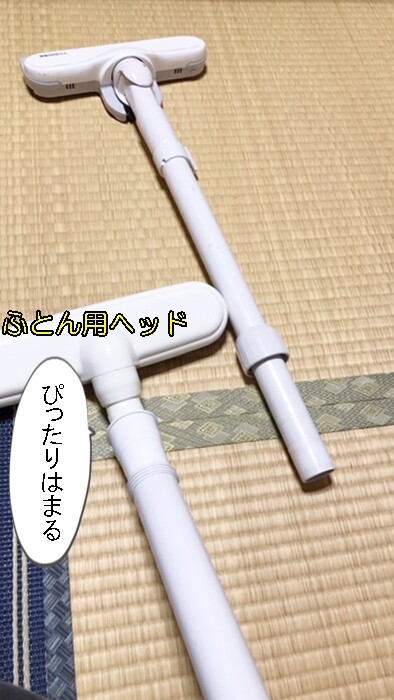 So I tried vacuuming it and it pulled easily. without leaving.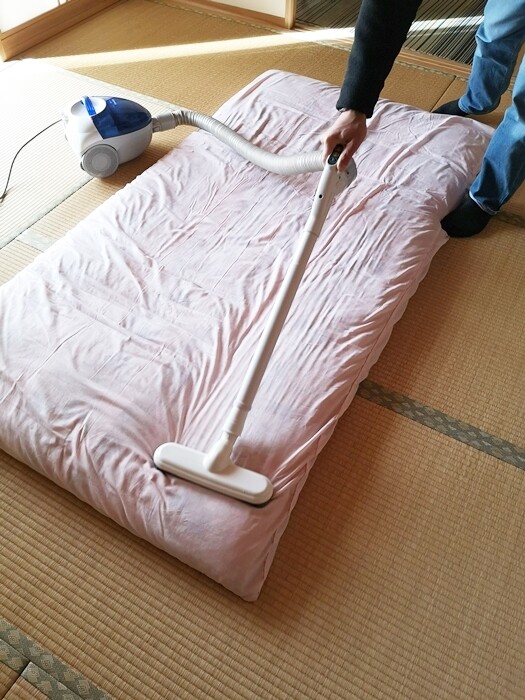 It seems he was able to vacuum the futon easily on his own.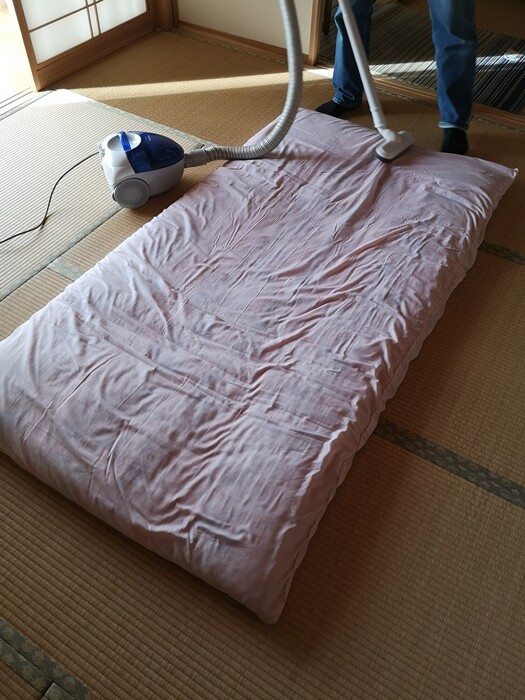 And when I looked at the dust bag of the vacuum cleaner after I finished, it looks like a lot of fine dust was removed.
(Photos are restrained💦)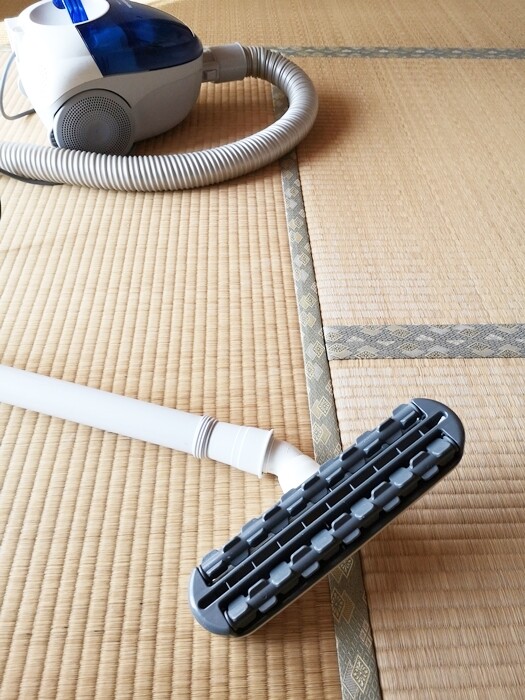 According to my husband…
I didn't want to hang it on the futon because it felt messy with a regular vacuum head. The spinning rollers hit the futon and pick up the dust, so it does a good job of removing household dust. I'm glad I bought it! …probably…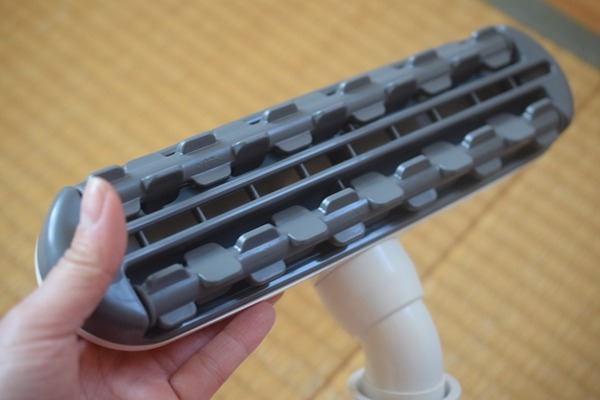 When I stayed at Yamanashi that day, my husband didn't have a stuffy nose, so he said it worked. (My daughter hasn't been to Yamanashi yet, partly because of the coronavirus pandemic.)
In conclusion,If it fits the mouth of the vacuum cleaner, you can use it! Dust can be removed!It seems (;´Д`)
To find out if a vacuum cleaner is suitable for your home, it would be nice to have reviews from people who happen to use the same vacuum cleaner, but it's quite difficult if you don't actually plug it in. Even Panasonic vacuum cleaners seem to have a limited number of compatible models, so it's recommended that you do your research before buying.
See you soon♪
I participate in the ranking of blogs.
If you click on the photo below, the rating will increase and this will encourage you to upgrade.
You can click once a day, so thank you very much (〃^∇^)↓


Japanese village blog
Thank you so much for everything♪♪
Looking at​​​​​​this now, the Iris Ohyama Futon Vacuum looks good.
For those who want to clean every day, a special appliance can be simple and convenient.
The futon my daughter always sleeps on at home is Suzakis, which does not release dust or mites.
Bedding is still important…
---
★The shopping marathon has started♬
Don't forget to log in! Let's get a coupon (・∀・)Introducing the continuation of shopping (・∀・)♬
(3) Wide tray with grilled fish
I used to buy the regular size and it was very comfortable to use, but it started to stick 💦
This time I bought a new wide one. I will introduce it again when it arrives ♬
④ Mixed nuts
I often have it with my evening drink on weekends and as a snack, so I always have it on hand.
I've been buying other things lately, but this is the one I bought before and it was delicious, so I decided to go back for the first time in a while~.

It's fun to see what everyone is buying and what the best deals are!
↓↓↓
Rakuten popularity rating in real time!